Exit 1 RV will be having its 60th Annual Open House Saturday April 27th, 2019 from 9am-5pm and Sunday April 28th, 2019 from 10am-4pm!  Enjoy our Open House sale pricing for the entire month of April on all new and pre-owned inventory!
Click here to see all of our new and pre-owned inventory!
"Purchased our new camper from Zack, He and everyone there was very knowledgeable and helpful. They went the extra mile to make sure ever worked out! Would highly recommend!"
Martin T.
Purchased a new RV from Chris and couldn't be happier. The unit was exactly what we were looking for and fit our needs very well. The knowledge base of this family owned dealership was extremely high and even after the sale when we had an issue or problem they stepped up and repaired the issue under warranty and went above and beyond when it came to new camper ownership and maintenance. I tried all the other dealerships and I am very happy with how I was treated. Highly recommend Exit One RV!
Larry K.
"We purchased our first camper last year. Our salesman Zack was courteous, knowledgeable, and very helpful. He and the staff were able to get the camper ready for us in just a few days as we wanted to go camping right away. A couple of very minor problems were solved quickly and efficiently. For various reasons, we decided we wanted a larger camper and traded it in this year. Zack gave us a really great trade for our old camper and once again got the new camper ready in just two days. When purchasing the camper, we looked all over New England for comparison prices. With the trade value and purchase price, Exit One RV was absolutely the best deal. Everyone at the dealership has gone above and beyond, making us loyal customers! We highly recommend Exit One RV and will continue to give them our business in the future!!!"
Scott G.
Chris the owner was very helpful. Took me in right away.
John A.
So…I did buy a new RV from these great people (see below)! The whole staff helped with the process of trading in a camper, showing me and the family new models as well as the installation of the weight distribution hitch. I had a problem while on my first camping trip and over the phone they helped me solve a problem of my own creation! Bought it at the start of summer and just got back from our 8th trip!
First Review-I did not buy my RV from them so I can not speak to that, but as far as parts and assistance…WOW! I have a used camper that I do work on occasionally and these people have been very helpful with problem solving. If they are this helpful to a person who bought their camper else where…I will check them out when I am in the market for another camper.
Bob B.
"Professional staff! Will be buying my new camper with Exit One!"
Greg P.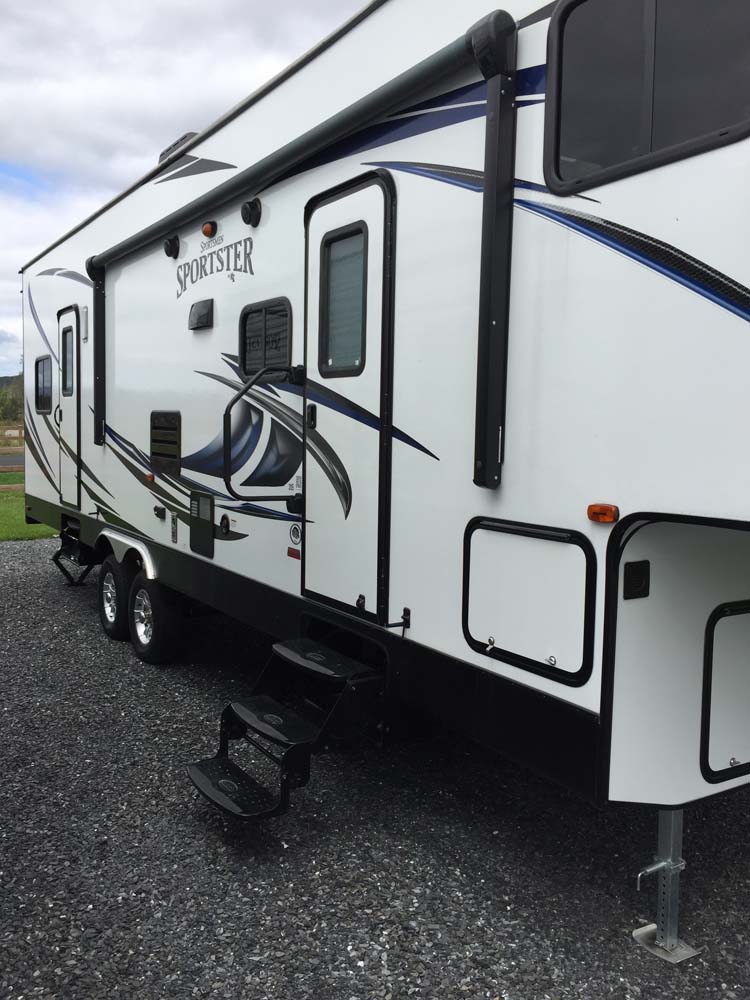 LEFTOVER TOY HAULER!!! GET IT BEFORE ITS GONE!
This is a BRAND NEW leftover 2017 Sportster 315TH fifth wheel toy hauler that we are selling at the USED NADA PRICE!  This is a great toy hauler that can still be towed by some half-ton trucks.  It has a 10' garage in the back with a bunk bed and two benches on an electric lift so you can fit the kids or guests and still fit your toys.  For more information, check this out on our inventory page!
MSRP: $44,815
Sale Price: $31,700
Your only local Full Service RV Center SINCE 1959